Wine Club
Join our Wine Club and enjoy the very best of Archangel Wines and all the good things that go with it. There is definitely something special about having a sense of belonging and we at Archangel invite you to be a part of our growing family.
An Archangel wine membership offers first-hand access to our limited release wines, library stock as well as ongoing invitations to visit and celebrate wine together with us at Archangel.
We want to make life as easy as possible for you – from selecting the very best Archangel has to offer in wine to the convenience of cellar to door delivery – it's our way of showing you that we care. All you need to do is select what level of membership you would like and we'll do the rest. It's that simple!
WHAT WE OFFER YOU
Three membership levels – Silver, Gold and Platinum
A selection of Archangel wines four times a year – February, May, August and November
Free shipping within New Zealand **(Please refer Terms and Conditions)
First access to Archangel limited and new release wines
Periodically and when available, first access to library wines and large format wines
Members only – special offers and discounts every month
Invitation to member exclusive events at Archangel
Complimentary wine tasting for you and your guests at Archangel
Preferred member pricing on the 'Archangel Tasting Experience' for you and your guests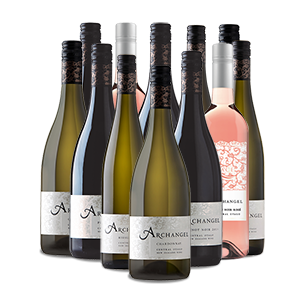 Choose the level of membership you would like to join by reading the details below then registering, and we will take care of everything else.
Life made simple.
Three Bottles Per Quarter
• Receive three bottles of carefully selected wines four times a year – February, May, August and November
• Free freight within New Zealand ** (Refer Terms and Conditions)
• A complimentary wine tasting for you and two guests at Archangel
• 5% off all additional current release wine purchases with Archangel
• Receive six bottles of carefully selected wines four times a year – February, May, August and November
• Free freight within New Zealand ** (Refer Terms and Conditions)
• First access to new release wines and large format wines when available
• Refer a friend for membership and receive a $25 Archangel Wines Rewards Voucher
• A complimentary wine tasting for you and two guests each time you visit Archangel
• 10% off all additional current release wine purchases with Archangel
• Invitation to member exclusive events at Archangel
• Receive twelve bottles of carefully selected wines four times a year- February, May, August and November
• Free freight within New Zealand ** (Refer Terms and Conditions)
• First access to new release wines, large format and library wines when available
• Refer a friend for membership and receive a $25 Archangel Wines Rewards Voucher
• Annual Archangel gift
• A complimentary wine tasting for you and four guests each time you visit Archangel
• Invitation to member exclusive events at Archangel
• 15% off all additional current release wine purchases with Archangel
• Your own event at the Archangel Wine Lounge – an exclusive area in the lounge for a one-off event, including additional discounts on wine and food
*Additional charges apply to Waiheke Island and Great Barrier Island