OUR WINES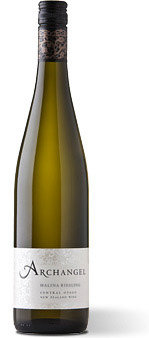 HALINA RIESLING
Current Vintage 2018
Enticing aromas of freesia, tangelo and white peach with lovely notes of melon, stone fruit and lemon curd.  The wine opens up to a sweet fruit entry on the palate with layers of ripe orange, apricot and lemon and a nice minerality.  An elegant, off-dry style wine with a lively, well-balanced acidity and a long lingering finish.
Peter Bartle – Winemaker
AWARDS & REVIEWS
HALINA RIESLING 2014
Cuisine Magazine Number 1 Riesling in NZ 2018 (5 Star Rating)
"A BEAUTIFUL EXPRESSION of pure fruit and sensitive winemaking," opined John Belsham. A few years in the bottle has also imbued this wine with gentle toast characters and textural elegance. It's a delicate, limey, medium-dry style, with fine acidity and great persistence. The sweetness is restrained. It would be a perfect match for scallops, or pecorino cheese.
BOB CAMPBELL MW - 93/100
HALINA RIESLING 2013
Archangel Halina Riesling 2013 (5 Star Rating)
Brilliant, even straw-yellow colour with slight lemon-green hues, paler edged. The nose is softly full and voluminous with an intense and deep heart of lime fruit, honeysuckle, white florals and subtle secondary development notes of toast and kerosene. Medium-dry to medium in taste and medium-bodied, the palate has a rounded and gentle mouthfeel of limes, honeysuckle and gentle floral flavours, unveiling toast and mineral detail. The mouthfeel possesses fine-textured phenolics and fruit extract, and the sweet fruit is balanced by crisp, brisk acidity. The flavours forma finely concentrated core that carries to an elegant, long lingering finish of lime and honey. This is a gently mouthfilling medium-dry Riesling with a taut core of lime and honeysuckle, and balanced, brisk acidity, now beginning to show a little secondary toasty complexity. Match with Thai, Vietnamese and Japanese cuisine over the next 4+ years.
Raymond Chan Wine Reviews
HALINA RIESLING 2012

PURE BRONZE – Air New Zealand Wine Awards 2013
Archangel Halina Riesling 2012 (4 Star Rating)


The debut 2012 vintage is a medium style (24 grams/litre residual sugar), grown in the Cromwell Basin. Instantly appealing, it is vibrantly fruity, ripe and concentrated citrusy flavours that linger well. Drink now or cellar.
Michael Cooper