OUR WINES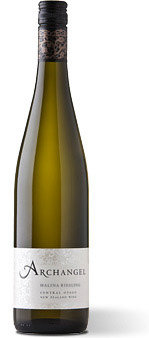 HALINA RIESLING
Current Vintage 2013
A delicate wine with lifted aromas of pink grapefruit, mandarin and stonefruit with hints of honey and spice. The palate opens up to citrus and stonefruit flavours. A medium sweet wine upfront with a good weight on the mid-palate – perfectly balanced by a backbone of bright acidity and a long lingering finish.
Peter Bartle – Winemaker
AWARDS & REVIEWS
HALINA RIESLING 2012

PURE BRONZE – Air New Zealand Wine Awards 2013
Archangel Halina Riesling 2012 (4 Star Rating)


The debut 2012 vintage is a medium style (24 grams/litre residual sugar), grown in the Cromwell Basin. Instantly appealing, it is vibrantly fruity, ripe and concentrated citrusy flavours that linger well. Drink now or cellar.
Michael Cooper