"It is often in the darkest skies that we see the brightest stars"
Richard Evans
Halina
One and a half winters in a Siberian labour camp taught Halina two things – resilience and hope. She knew that living in fear was wasted energy. For Halina and her family to survive, she would need strength of character and a belief that there was a better future ahead of her.
As a child, Halina enjoyed riding with her father on the cavalry horses. She was fascinated by the mutual respect and trust she saw between horse and rider. Every opportunity she could find, Halina would be with the horses – keeping the stables tidy and the horses groomed and fed. She liked the physical work and preferred this to household chores.  The more time she spent with the horses the more she understood them and they her. She was developing her father's 'horse sense' and it was this, that would help her deal with life in the most practical way, but more importantly, it gave her the courage to deal with some of the adversities that lay ahead.
It was no wonder that when she arrived at the labour camp in Arkhangel'sk she was put to work, minding the farm animals for the Russian soldiers. Even though she had to work long hours, she didn't complain. She would tend to the nutritional needs of the animals and the cows would need to be milked.
The harsh Siberian winter was taking its toll. With little food, Halina's younger sisters were beginning to show signs of malnutrition.  Tending to the animals on a daily basis gave Halina the perfect opportunity to sneak away small containers of milk back to her mother. The Russian soldiers would never notice and it would allow her mother to make a warm soup of milk and bread to keep Lucia and Sabina nourished. Unfortunately for Halina, her resourcefulness was short lived. Caught red handed by a Russian officer, Halina was lucky to have got away with no more than a reprimand. Instead of farm work, she was sent to work in the forests to log trees. She didn't mind – the dense, dark spaces were filled with the scent of pine and Halina knew that one-day, the sun would shine!
*****
Archangel Halina Riesling 2012
My mother had a spirit that no one could tame. She loved nature and animals, story telling and the stranger. She loved the snowflake on her face and the sun on her back. She loved a gathering of family and friends, eating cake and all things sweet. She had a natural beauty and was truly unique. The name 'Halina' means 'sun-ray'.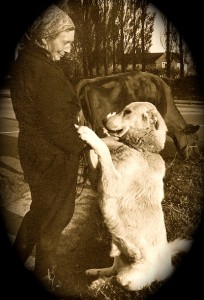 The inaugural Archangel Halina Riesling 2012 is a medium sweet style wine that has been crafted from grapes hand-picked from vines that sit on the sun-drenched terraces of the Archangel vineyard. Naming this wine 'Halina' seems a fitting tribute. Halina would have liked it a lot!