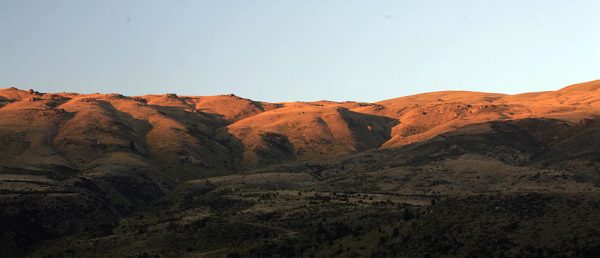 Spring is the season of life! As winter slowly gives way and the warm September sun heralds the dawn of springtime, we are greeted with many wonderful sights, fragrant scents and a melody of beautiful sounds. The pleasantly warmer air and longer days thaw out the frozen soils and melts the alpine snow, bleeding life into the once cold land. This in turn, leads to dramatic growth, an eruption of colour and a freshness, which fills our minds, bodies and souls. A sharp, crisp springtime feel engulfs all that it comes into contact with, which seems to breathe new life into all of earth's remarkable creatures. Stark greys and dull browns yield to luscious greens, effervescent yellows and a whole myriad of vibrant colours to form a patchwork of harmony over the landscape. Central Otago awakens from its slumber to greet Mother Nature with a yawn, a smile and a hop in its step. Our ears are filled with an array of alluring sounds, from newborn lambs and chirping cicadas, to young starlings crying out for their mothers. Oh Spring time – how we love you!
On the vineyard it is a cataclysmic explosion of life. Butterflies, ladybirds, honeybees and all other creatures great and small return to the vines as if coming back from a summer vacation. The vines arise from their winter solstice with a stretch of their limbs and warmth in their roots, as fresh green buds burst into existence. Growth and life is once again with us at Archangel!
This year Spring signals more than just the start of another growing season at Archangel. It brings with it change. Whilst Mother Nature has remained decidedly dormant and still over winter, Archangel has been busy at work. Scurrying, designing, crafting and creating it's own masterpiece like a worker bee – readying ourselves to unveil our brand new Wine Lounge at Archangel Vineyard. There is an excitement as we set about to elevate the wine tasting experience for our visitors – An intertwining tapestry of fine wine, art and food to create the perfect place for the Archangel story to be shared, and for guests to share their stories. Set within a simple barn-like building with large paned windows that frame the landscape and bringing the outdoors in. Inside, the charming inglenook fireplace and rustic beams add to the ambience. Taking center stage a long oak table with high-back leather chairs creates a level of elegance and sophistication, elevating every occasion into something really special. With gracious hospitality, Archangel welcomes its guests to to sit and enjoy a perfect pairing of wine, food, art and storytelling
With every detail thought through, this versatile venue is also a perfect setting for weddings, private celebrations, corporate events and private tastings – whatever the occasion, Archangel will ensure a memorable occasion for any season.
So it is, that spring is indeed a time for growth and change. As Mother Nature awakens from her long sleep, so too, a new chapter begins in the legacy of Archangel. We invite you to join us as once the doors are open, to come and make Archangel your home away from home. Keep your eyes peeled and your ears to the ground for an opening date and celebrations, coming soon!