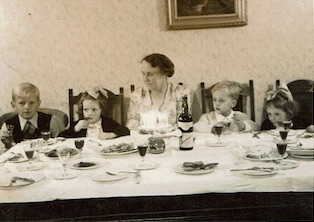 Here's to my parents – "Thanks for raising me – I really appreciate it!"
Life wasn't that tough for me but then again I knew better than to ask for too much. Christmas was one gift – but always something I wanted – a kitten, a Barbie doll… Sunday dinner was always a family gathering around a large oak table neatly covered in pressed white linen. We would all help prepare and share a hearty meal of meat, potatoes and vegetables with pudding to follow – Sometimes a small glass of sherry, but mostly on special occasions. In the background the radiogram would play soft music and on occasion we would listen to The Clitheroe Kid and laugh as we could only imagine the cheeky schoolboy's antics. Simple days and fond memories!
The idea of a family dinner has always been important – being together and enjoying each other's company through good food, good drink (nowadays wine), good conversation and laughter – it feeds us emotionally and creates a connectedness. Apart from bringing us together, a family meal is an enjoyable experience that can instil great values in our children – a special time when stories are shared and most of all, when treasured memories are made.
So what's at the very heart of Archangel – well of course it's family!
Here's one of my family's favourite meals – it's simple to make and simply delicious!
FILLET FANCY
2kg fillet beef
1/2cup of softened butter
4 cloves of garlic (crushed)
Salt & pepper
Fresh mushrooms
1 bouillon beef OXO cube
1 cup of Archangel Pinot Noir
Ice fillet of beef with butter, garlic, salt & pepper. Crumble beef OXO cube into the wine wine and set aside. Cook the meat in a moderate oven at 190 – 200 degrees celsius for approximately 50 minutes. After 30 minutes place mushrooms over the meat and baste in red wine with OXO cube. Continue to baste wine over meat regularly (every 5 minutes). Take out of the oven and let rest for 10 minutes.
Serve with your favourite vegetables and glass of Archangel Pinot Noir.
Enjoy with your family!
x